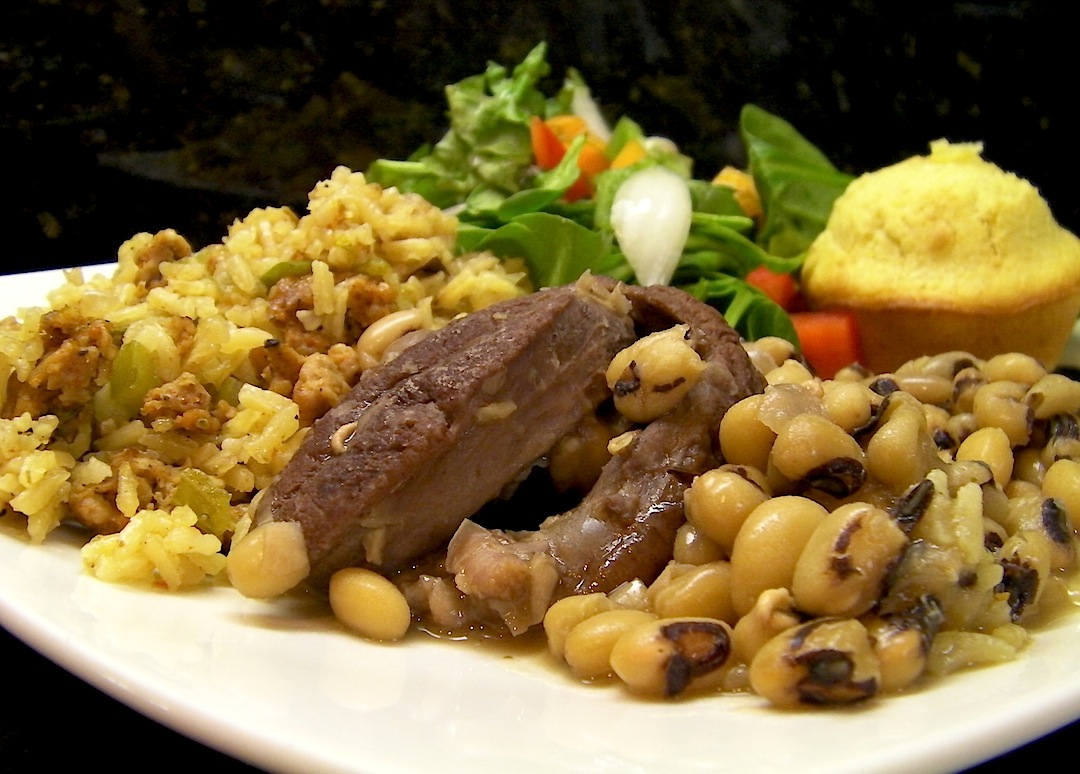 I usually do my blackeyed peas with bacon, but sometimes I find one meat cheaper than the other. On this occasion, bacon ends were sold out and beef shank was on special for $1.99 per lb. Decision made. Same recipe, different meat. But, not only did I find a great deal on beef shank, the Manager's special was spicy sausage for $.59 per lb. That just screamed, dirty rice!
Now, before you hammer me. I've done dirty rice the traditional way and my way and our family has decided on 'my' way. I've had people tell me that 'my' way is Bayou style, but I don't know. I just know I was in a hurry and I wanted it more like a jambalaya. Moist, flavorful. I just know we love it. Hope you do too!
Oh, and like I said before! Traditionally, blackeyed peas are served on New Years and are said to bring good luck. Good food that brings good luck. What are you waiting for? Add it to the menu!
Black-Eyed Peas:

1 pound dried black-eyed peas, rinsed and cleaned – $.98
1 lb Beef Shank – $2.00
1 Tbsp garlic, minced – pantry
1 Tbsp olive oil or butter – pantry
1 medium yellow onion, diced – $.45
1 tsp freshly ground black pepper – pantry
2 bay leaves – pantry
1 Tbsp Soul Season or Cajun Spice – pantry
1-2 quarts chicken stock, or water (I add 1 Tbsp bouillon to water, it's cheaper) – pantry

COST: $3.43

In a large pot, sear beef shank till brown on each side. When seared, add onion to shank and saute for 2-3 minutes on medium heat. Next, add butter and garlic and cook for just a minute or so. Add beans and fill pot with water, at least 2 inches above peas. Add soul seasoning, pepper, bay leaves and bouillon powder. Stir, cover and bring to boil. Reduce to a simmer and cook for 1 1/2 hours. Make sure to watch that liquid doesn't run down.

At the end of 1 1/2 hours, remove lid and bring to rapid simmer. Cook for another 30 mins or until liquid cooks down and peas are nice and tender.

Dirty Rice:

1 lb spicy sausage (I used Italian) – $2.15
1 medium yellow onion, chopped – $.45
1 Large green bell pepper, chopped – $.77
1/2 cup diced celery – $.20
1 cup uncooked white, long grain rice – $.25
1 Tbsp Soul or Cajun seasoning – pantry
1 tsp freshly ground black pepper – pantry
2 bay leaves – pantry
1 tsp lard or canola oil – pantry
1 tsp fresh thyme (or dried) – pantry
1 tsp fresh minced garlic – pantry
1/4 – 1/2 tsp dried oregano – pantry
2 cups chicken stock, or water (if you use water, add some bouillon for flavor) – pantry

COST: $3.82
Place a large heavy pot over medium heat, and cook sausage until slightly browned, about 5-7 minutes. Remove sausage from pan and set aside.

In same pan, add lard or oil, onion, celery, bell peppers, and garlic to the pot. Saute over low heat for 3-5 minutes. Add sausage back, the salt, pepper, soul seasoning, thyme and oregano.

Last, stir in rice and cook 5 more minutes. Now, add stock or water and bring to a boil. Reduce heat to slow simmer, cover, and cook for 15 minutes. Let stand for 5 more minutes before serving. Great with beans, peas, greens. You name it!

Side Salad:

1/2 head Iceberg lettuce and large handful of mixed greens – $.70
1 Large Roma Tomato, sliced or diced – $.15
1 orange Pepper, sliced – $.50
Salt and Pepper to taste – pantry

COST: $1.35

Corn Muffins:

1 cup yellow corn meal – .25
1 cup flour – .25
1/3 cup sugar – .20
1 egg – .13
1 cup milk – .25
3 tablespoons melted butter – .20
1 tsp salt – pantry
2 1/2 tsp baking powder – pantry

COST: $1.28

Preheat oven to 400.  Combine corn meal, flour, baking powder, sugar and salt until well mixed.

Beat egg, add milk. Pour milk and egg mixture into dry ingredients, stirring until mixed. Add melted butter and mix again, briefly.

Bake for 15-20 mins in a greased shallow pan or muffin tins. Serve hot with butter! Yummmm.

GRAND TOTAL: $9.88