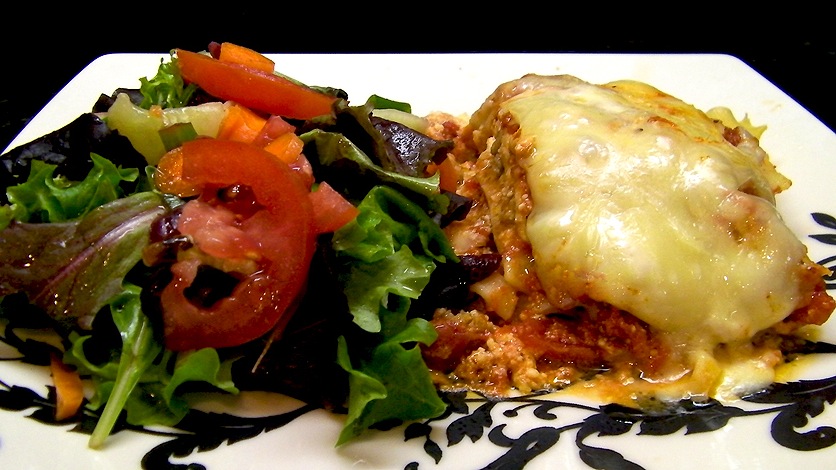 Everyone has a recipe for lasagna, so I'm not gonna claim mine to be better or special. I'm just gonna give you my version and promise you that it's easy and affordable, but most of all, delicious!
On this particular night, I had leftover provolone cheese from steak sandwiches, so instead of the usual 3 cheeses, this lasagna became 4. It's not required to have provolone, but when you have something to use, use it! Extra cheese is NEVER a bad thing, right?!?
I just want you to know, the 3 main cheeses necessary are ricotta, mozzarella and Parmesan. With those 3, you can't go wrong!
Easy Four Cheese Lasagna:

1 lb. lasagna noodles, cooked al dente – $1.15 ($2.29 per pkg-use 1/2)
26 oz. jar spaghetti sauce (You can make your own with tomato sauce and herbs) – $1.29
1 12 oz can dice tomato with basil – $.65
1 cup ricotta cheese – $1.27
1 cup cup shredded mozzarella cheese – $2.09
1/2 cup Parmesan cheese – $.75
6 slices Provolone cheese (optional) – $.80
1 lb Ground Beef, Chicken or Turkey (I used Chicken. If was only $.99 a lb!) – $1.02
2 eggs – $.66
1 small onion, finely diced – $.15
1 Tbsp dried basil – pantry
1 tsp diced garlic – pantry
1 tsp dried oregano – pantry
1/2 tsp salt and pepper – pantry
1 Tbsp Olive Oil – pantry

COST: $9.83

Cook lasagna pasta as directed on package. Slightly al dente is best.

In large skillet, brown ground chicken (or beef). Make sure it's crumbled well. Add oil, if necessary and when nearly cooked, add diced onion, dried basil, oregano and garlic. Cook for 2 mins and set seasoned meat aside.

In medium glass bowl, beat eggs. Add mozzarella, Parmesan and Ricotta. Stir and set aside. In another bowl, mix your spaghetti sauce and diced canned tomato. Now you're ready to layer.  Don't forget to preheat your oven to 350 before you start layering.

Using a 13 x 9 inch baking dish, drizzle olive oil on bottom and place one layer of lasagna noodles.  Next, add meat by sprinkling (approx 1/2 your meat mixture) over noodles.  On top of meat, add about 3 heaping tablespoons of your cheese mixture and spread over meat.

Split your tomato sauce into 1/3's and spread the first 1/3 over the cheese layer.  Top with lasagna noodles and begin next layer.  Meat, cheese, sauce and end with lasagna noodle. Top with remaining sauce and provolone slices.

Cover and bake at 350 for 40-45 minutes. If you want a nice browned color, you can uncover for the last 15 mins of cooking time.

I had a ton of left over salad from our Steak Sandwich dinner the night before. You could serve this wonderful lasagna alone or with garlic bread.  It's a very hearty meal, so you can count on dinner for 8, if you need to.  Otherwise, lunch leftovers will be abundant!

GRAND TOTAL: $9.83