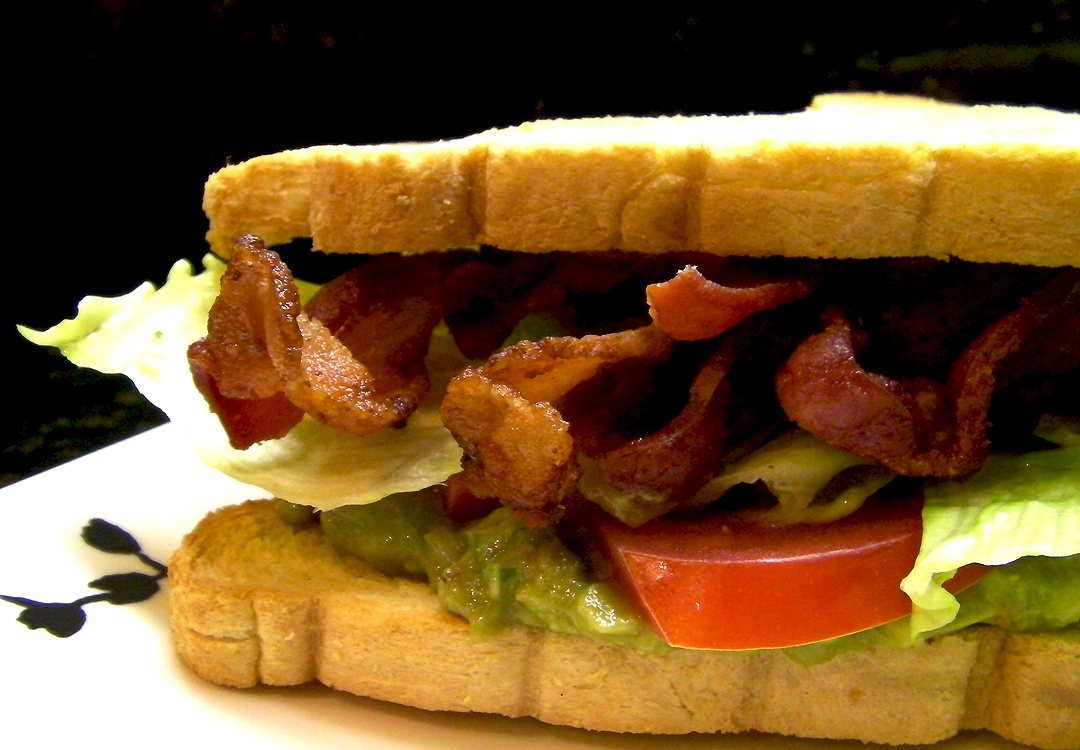 BLT's are awesome! They're so awesome, I risk all injury to the roof of mouth to enjoy every bite.
So how can this simple sandwich improve?   Avocado, of course!  A much better fat than mayo and even better when they're on sale, 4 for $1. I had to hunt for ones that weren't over ripe, but it was worth the effort. Man! These sandwiches rocked!
You could serve with nearly any kind of chip or soup on the side. We had them with clam chowder, but I wasn't happy with my last recipe. I've made it before and it was awesome, but I couldn't remember what I did. Typical. Anyway, I'll redo it and post soon. Maybe in a bread bowl. Those things are so expensive. It's time I learned to make them on my own.
The next time you're craving a BLT, take that wonderfully simple sandwich from good to GREAT. Add Avocado!
Bacon, Lettuce,Tomato & Avocado Sandwich (BLTA):

1/2 loaf fresh French bread – $.75
2 tablespoons butter or margarine (optional) – pantry / fridge
1 lb bacon (I like bacon ends, thick, from butcher) – $2.99
1/2 head romaine or iceberg lettuce – $.49
2 medium tomato, sliced – $.60
2 ripe avocado, peeled and mashed – $.50 (on sale)
1 Roma Tomatoes, Diced – $.20
Dash of lemon or lime juice – fridge (save opened, sliced leftover citrus in plastic baggy for times like this)
1 Serrano Pepper (optional)
1/2 tsp salt – pantry
Pepper to taste – pantry
1/2 garlic powder – pantry

COST: $5.53

Fresh French Bread is pretty cheap in the deli of most stores these days. Don't be afraid to use for sandwiches. Using a serrated knife and cutting board, slice eight 1 1/2″ slices for your sandwiches. Spread slices with butter (optional). In preheated oven (375), place bread slices, butter side up directly on rack. Rack should be 2nd down from the top. Let toast, but watch careful to not burn. Depending on your taste, you can toast fully or leave a bit chewy. Once done, remove and set aside.

Cook bacon to desired crispness. I find that for BLT's, it's best to lean to the very crispy side. But, be careful. Nothing worse than burnt bacon!

While bacon is cooking, you can prepare your fixings. For the avocado spread, it's really like making a simple Guacamole. Dice tomato and add to mashed avocado. Add 1 tsp lemon juice, salt, garlic powder and mix well. Add serrano chile if you want it spicy. Set aside and finish bacon.

When bacon is done, place on paper towel to drain oil. Now you're ready to assemble.

Place the avocado/guacamole on 1 slice of toast, then bacon, then tomato slices, and then lettuce. Pepper lettuce and tomato to taste and top with another slice of toast. The order doesn't really matter. I do mine backwards, but it's because I never pay attention. Just if you put the bacon first, the avo helps it stay and not slide off with every bite.

These are awesome! Did I mention? This recipe makes about 6 sandwiches, so have another. Go ahead! No one's watching.

GRAND TOTAL: $5.53