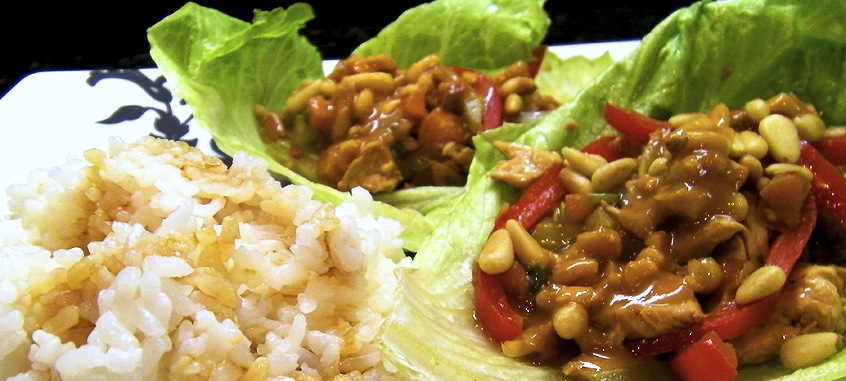 So, how many of you know how much Pine Nuts cost? I knew they were pricey, but I never knew just how pricey. I swear I thought it said $1.89 a pound. Come to find out, it's $18.99 a pound!!! I about died when I saw the receipt. The only good news is that they go a long way and I've used them in 3 recipes this week. So, if you don't have pine nuts, leave them out. It's a luxury and not a necessity for this recipe.
And by the way, when buying bulk, make sure you pay attention to the price per pound. It's not like you can return it, right?
Anyway, hope you enjoy these scrumptious wraps. We sure did! Even the kids took leftovers for lunch the next day. Of course no Srirachi sauce for the kiddos.
Ginger Chicken Lettuce Wraps:

1 lb Chicken tenders, cut into chunks – $2.20
1 head Iceberg Lettuce – $.99
1 cup Chicken Broth (or 1 cup water and 1 Tbsp powdered broth) – pantry
2 Tbsp Soy or Shoyu sauce – $.20
2 Tbsp Canola oil – pantry
2 tsp lemon juice – $.20
2 tsp fresh grated ginger (or prepared ginger, grated and bottled) – $.40
1 Red Bell Pepper, sliced – $.88
1/4 cup green onion, chopped – $.20
2 cloves Garlic, minced – $.20
1 tsp Pine Nuts per wrap (optional), substitute with Peanuts – $3.00

COST: $5.27 ($8.27 with *Pine Nuts)

Mix broth, garlic, shoyu/soy sauce, lemon juice and ginger and pour over chicken. Marinade for 30 mins to 1 hour, if possible.  If not, just set aside while you prepare peanut sauce (see below).

Heat oil in medium skillet or wok to medium-high heat. Add marinated chicken and stir-fry until browned and cooked through.  Toss in green onion and thinly sliced red bell pepper and stir fry for just a minute or so.  You want to keep veggies crisp, but slightly tender.

Sprinkle with slightly roasted Pine Nuts and serve with rice and Srirachi Peanut sauce.

Srirachi Peanut Sauce:

1/4 cup peanut butter – $.35
3 tablespoons hot water or chicken broth – pantry
1 tsp Lemon Juice – use some from Ginger Chicken
1 Tbsp Soy Sauce – $.20
1 Tbsp Brown Sugar – pantry
1 clove Garlic, Minced – $.15
1-2 Tbsp Srirachi Sauce (depends on how spicy you want it) – $.35

COST: $1.05

Combine peanut butter and hot water/broth with sugar in small sauce pan.  Over medium heat, mix till sugar and peanut butter are well blended. You can use a whisk to help move it along. Remove from heat, add lemon juice, garlic, srirachi and soy sauce. Mix well and set aside to cool.

Perfect for lettuce wraps or stir fry or even as a great dipping sauce.

And don't forget the rice! I use Calrose, but you could do long grain or even brown.

COST: $.50

GRAND TOTAL: $9.82